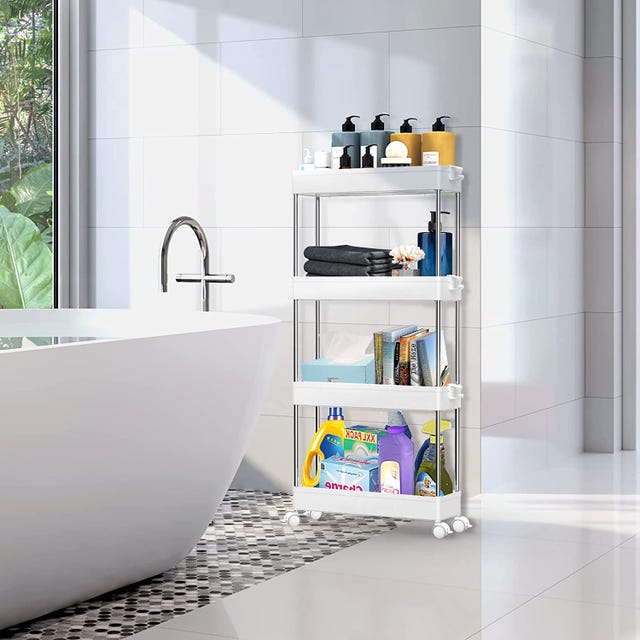 SPACEKEEPER
Organizing your bathroom is no easy feat. Littered with tools, cleaners, and containers that hold them, it takes a lot of strategy to get things in order. And if you have a small space to work with, things get even more complicated. So how do you begin the process and what steps should you take thereafter to have a clean, decluttered, well-organized bathroom? We're here to help with bathroom organization ideas that make the most of your space.
Organizing expert Lucy Milligan Wahl, owner of professional organizing company LMW Edits, says every organizing project should start with what to keep and toss. "Don't let guilt prevent you from decluttering," she says. "Guilt comes in many forms: from sustainability concerns ('I don't want this to go in a landfill!') to family pressure ('This was a gift and the giver will be so hurt!') to insecurities ('I need to keep my fat clothes in case I gain weight again')." But that guilt, Wahl says, won't help you do anything productive. So yes, keep things you love and use, and declutter things that you don't.
Once you've sorted out what you don't need, then dive in to categorizing "like" items — makeup with makeup, skincare with skincare, beauty tools, and even cleaning solutions. Ask yourself, what do I use daily versus what do I use sometimes? Understanding frequency of use can also give you a rough idea of what needs to be easily accessible (and can be spotted so you don't forget about it) and what can be stored behind the scenes (like overstock of soap and cotton swabs).
Make sure you're also armed with the right products to help you contain and organize — we've rounded some up here for you.
1 of 25
bathroom towel organization idea
File Your Towels
This Yamazaki Standing Bath Towel Hanger triples the amount of towels you can hang in your bathroom. The free-standing, powder-coated steel towel hanger with solid ash bars can hold several in varying sizes with its distanced bars while not taking up too much floor area.
2 of 25
bathroom vanity organization idea
Stack Up
You can multiply your bathroom counter space by utilizing a stacking tool, like this 4-Compartment Vanity Organizer. It's clear so it shouldn't be an eyesore, but functional so it can hold your makeup, perfume, skincare products and more.
3 of 25
ideal for cramped shower spaces
Shampoo and Soap Station
You've probably seen these in hotels, but bring it to your home for streamlining your shower storage. Instead of having bottles on ledges and surfaces, this simplehuman Triple Wall Mount Shower Pump—which comes with three vessels (for your shampoo, conditioner and body wash)—can clear your shower clutter. Installing is easy with the strong, double-sided tape that it comes with. It can also hold a razor, loofah and other accessories.
4 of 25
space-saving solution for shower or bathroom sink
Shower Shelf
Need something to hold your soap, body scrubbers, and razors? This aluminum basket works with most shower rails or poles. You could even use it on a sink faucet rod. It's easy to attach without the need for any special tools.
5 of 25
organization with a modern look
Shower Caddy
The tried-and-true shower caddy that wraps around your shower head to give you much needed bathroom storage is always a good option. To optimize storage, consider one like this with an adjustable pole. Its baskets can hold bottles, loofahs, and more. Its rust resistant aluminum means you'll be able to use it for years to come. Suction cups in the back will keep it in place as it hangs.
6 of 25
for containing cosmetics
Countertop Cosmetic Container
Best for your everyday beauty needs, this Umbra cosmetic organizer will keep your counters clutter-free. House your essential makeup brushes, liners and more in this product made for the glam goddess that you are. It has an open-top design and needs nothing for mounting.
7 of 25
free up floor space
Revolutionized Toilet Brush
If you thought the toilet brush couldn't be reinvented, you were wrong. This breathable, quick-drying, easy-to-clean toilet scrubber is stronger and tougher than most ordinary ones. Its bendable brush head means you can get into every nook and cranny. You'll get a 360-degree cleaning with its durable silicone bristles—way better than old-school plastic ones. When not in use, it's mounted to your wall to give you more floor space.
8 of 25
doubles as linen closet
Tall Cabinetry
Have plenty of things to store, but nowhere to put it? If you can find a little space in your bathroom, this tall bathroom storage cabinet can house all of your things nicely. It comes in two different modern styles to suit your bathroom decor, each with a combination of open shelving and covered cabinets, plus a drawer.
9 of 25
sustainable bathroom storage pick
Spin-Around Storage
Have easy access to your bathroom essentials with this rectangle organizer, which is not only practical but well-designed. You'll love the way it looks on your bathroom counter, and it can contain your makeup, skincare and more in a nice fashion. It also rotates a complete 360 degrees, so you can really make use out of every inch of it.
10 of 25
tried-and-true bathroom buy
Corner Caddy
An oldie but a goodie, a tension corner shower caddy towers high but holds a lot. This Zenna Home Tension Pole Shower Caddy is made of steel and comes with four tiers of valuable storage. The corner-hugging baskets are deep and yet shaped like an L so they don't take too much space away from your actual shower area. The wire design of each basket will keep them from holding water and getting gunky. Though, long-time user and shopping pro Karina Cicchino warns, "You'll have to wash them from time to time or you get soap scum and build-up on shelves." Choose from three different finishes: chrome, satin nickel, and bronze.
11 of 25
creative bathroom storage
Toothbrush and Toothpaste Wall Mount
If you're the type to want virtually nothing on your bathroom counters, consider a dispensing station. This toothbrush holder and toothpaste dispenser easily mounts to your bathroom wall. It has room for both regular toothbrushes and electric ones. It has enough space for five toothbrushes, four mouthwash cups (included) and a groove storage compartment for other odds-and-ends.
12 of 25
minimalist organizer for small bathrooms
Slim Shelving on Wheels
Sometimes all you have is a 6-inch space between your bathtub or toilet and the wall. This ultra-slim cart will fit—and hold some of your bathroom essentials. A little over five inches in width, this four-tiered plastic-and-steel storage unit also comes with wheels so you can roll it in and out of spaces for easy maneuvering and cleaning.
13 of 25
bathroom drawer organization
Organize Your Drawers
"If your bathroom has drawers, I highly recommend using drawer dividers, especially for little things like hair ties and lip products," says Wahl. "Dividers keep everything neat so you can see it at a glance." Be extra about organizing within your drawers. Sort like categories of items using separators or drawer organizer containers like these. This kit comes with 10 different containers in varying sizes. Customize to your needs and buy more pieces if needed.
14 of 25
multi-purpose for big families
Drying Rack
If you live in a household with multiple people, that means you'll need multiple racks and hooks to hang more than the average person. A drying rack like this one (which comes with five rods, a top shelf and five hooks) is just what you need. When not in use, simply swing the rods towards the wall, where this product is mounted.
15 of 25
luxury design
Over-Toilet Shelving
"You want to really use the vertical space," says Wahl. "Shelving over the toilet is a great way to snatch back some space."
Wall shelving above the toilet is a great space saver. The key is to pick something stylish since it's a main focal point of your bathroom. These Deco Curve Metal Wall Shelves come in four different finishes: brass (pictured), chrome, antique bronze, and nickel. Use it for toiletries, tissues, candles, decor and more.
16 of 25
simple yet practical
Clear Canisters
Rid your bathroom of the boxes and bags your toiletries and other store-bought items came with. Organizing them in clear canisters can make your space look very sleek. Declutter with this 3 Piece Apothecary Jar Set for cotton balls, cotton swabs, makeup brushes and more. Each is a different size, and the see-through body and lid make it easy to find what you need.
17 of 25
versatile catch-all for under the sink
Best Bath Tote
We love the Madesmart Frost Divided Bath Tote because it has generous compartments to hold hairbrushes, hair dryers, and other tools you store in your bathroom. You can even use it for under the sink to house bathroom cleaners. And the best part is, this round caddy has a built in turntable so you can spin it to get to what you need. It's made of translucent plastic material that's also antimicrobial.
18 of 25
beautiful bamboo
Corner Complete
When working with a smaller bathroom, usable space may be hard to find. Corner storage can be a great solution for holding items you need access to — bath towels, lotions, tissues and more. This bamboo corner shelf might be just what you need. It's also small enough to possibly use under the sink.
19 of 25
bathroom organization idea for men
Silicone Solutions
Clear your bathroom counter of toothbrush holders and other small containers. This 4-in-1 Silicone Tile Series from Tooletries mounts to the wall so that toothbrushes, nail clippers, body scrubbers, and razors can hang on. In each set, you'll get a hook tile, razor holder tile, toothbrush rack tile, and magnet tile.
20 of 25
cute containers
Bins With Lids
If practical storage for smaller bathroom items is all you need, a bin like this with a lid will help. Made of recycled plastic and bamboo, you can secure your razor, cotton swabs, makeup and more in this handy storage tool. Depending on what you need to store, choose from medium or large.
21 of 25
genius hair tool holder
Hairdryer Holder
While you can certainly store your hair dryer in a drawer or bin, displaying it on your wall, making it easily accessible, can be a clever way to store it. This holder, which comes in three different colors (green, orange, and yellow) requires no drilling, and is said to accommodate most hair dryers on the market. A flexible holding band can also stretch to accommodate different dryer sizes.
22 of 25
also great for laundry rooms
Space-Saving Hamper
A mix of wood and metal, this laundry bag holder can fit nicely into any cramped space and frees up the floor. The ultra-durable cotton hamper (included) can be easily removed for transport to your washing machine. You will have to mount this to a wall, but hardware is included in the set.
23 of 25
to store cleaning supplies under the sink
Under-Sink Drawers
If you're lucky, you have a cabinet under your sink. To maximize that space you're blessed with, a stackable, 2-tier under-sink cabinet drawer set like this will be a game-changer. Made of metal and available in five colors (black, bronze, rose gold, silver and white), the set of 2 drawers (which means you'll get 4 total) can be adjusted at different heights.
24 of 25
lovely levels
The Ultimate Caddy
Don't have enough horizontal space? This 3-tiered bathroom caddy that's made of bamboo and manufactured wood is compact enough that it won't take up too much floor square footage, but its three containers are perfect for storing jars of cotton balls and cotton swabs, bath salts and bath bombs, skincare, makeup and more.
25 of 25
organize with greatness
Lovely Labels
Whether you're using jars, bins or square containers, labels can make all the difference in your organization. Not only will these pre-printed, pre-cut labels help you find what you're looking for, they add a very nice touch to your bathroom's overall style. Minimalist in style, you'll find 158 different storage label stickers in this set. So just choose what you need and save the rest or toss.