We all know that morning routines can set you up for success in your day. We also know that establishing morning routines can be difficult. What are some easy to establish daily habits that can add to your overall happiness and productivity? Let's dig in!
Here's a question
What if you could do a few small things each morning, for only 15-30 mins and increase the chances of having an extraordinary day, every day?
It turns out, you can!
A carefully crafted morning routine can jump start your day, increase focus and productivity, and significantly contribute to your overall happiness. An effective morning routine can contribute to the following:
Better mental health
Lower stress levels
Increased energy
Improved sleep quality
So what are the best morning routines?
The best morning routines are simple, easy to repeat each day, and in line with your lifestyle and goals. Some common examples:
Meditation
Gratitude
Reading
Journaling
Affirmations
Exercise
Breakfast
An example
Here's an example of an easy morning routine. This happens to be mine:
6:00-6:10 am – Wake up, feed the dog, start some coffee
6:10-6:15 am – Gratitude journal
6:15-6:25 am – Meditation
6:25-6:27 am – Positive affirmations
6:27-6:30 am – Inspirational video (I watch Darren Daily)
This simple routine allows me to wake up, take care of essential things, ground my mind, set a positive mind state and also set my intentions for the day. Pretty cool huh? It also takes about 30 minutes (including feeding the dog and making coffee).
So how do you start?
We recommend keeping it simple to start. If you set out to run 5 miles each morning, read for a half an hour and meditate for 15 minutes – you're likely to fail.
Think about a habit you can easily fit into your morning routine. It should take no longer that 15 minutes to start. Got it? Ok, now it's time to practice, assess and recalibrate.
Practice
It's time to get started. Set a trigger for your activity, something that you already do daily. This could be getting out of bed, starting the coffee pot, brushing your teeth, etc. Now, practice your habit daily for a week. That shouldn't be too hard right?
Assess
After a week is over, it's time to see how things are going. Review how the week went and ask yourself a few questions:
Was it easy or hard?
How did I feel?
Can I continue to do this every day?
Is this the right routine/habit?
Do I want to add more to my morning routine?
Based on these questions, you should be able to decide if you wish to continue this morning routine, add to it, change it, etc. Most of the time you'll find that starting small is easy and you'll want to add other positive practices to your morning routine. If so, add one more item per week and then re-assess with the same questions.
Recalibrate
Hopefully after some practice and assessment, you're able to develop a consistent morning routine that works for you.
But then life happens.
You've followed the routine for a few months (or longer) and then something changes. A new job, the kids schedule changes, you get sick, you move – the list goes on and on.
You will have to recalibrate and adjust your morning routine over time. What worked a year or a month ago might not work tomorrow. The key is to continually evaluate your morning routine to optimize it for your goals and lifestyle.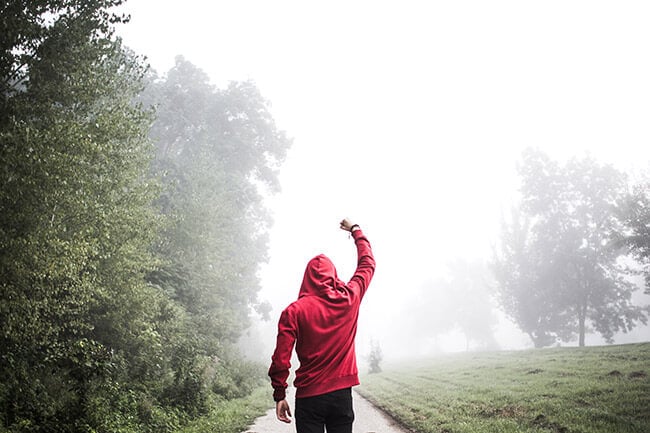 Go do it!
Have you been thinking about starting a morning routine but didn't know where to start? Just pick something and get started already! You'll be amazed by how easy a morning routine is to maintain and how much happier and more productive you will be throughout your day! Leave a comment below and tell us about your morning routine. Also, tag us in your posts on Instagram @realsimplegood and #TheRSGLife. Make sure to give us a follow if you don't already too – let's stay connected! We can't wait to see how you live better!
---
Like this Post?
SHARE IT NOW OR PIN IT FOR LATER!
---