As new parents, living in a world altered by a pandemic, you can imagine the stressors and sleepless nights experienced on a regular basis for over a year now. Both Justin and I started using CBD daily several months ago, so we wanted to share our experience with you using it specifically to help ease anxiety and sleep better at night.
Disclaimer: We partnered with Rosebud CBD to bring you this post. We only work with companies and brands we truly believe in and use ourselves. Therefore, all opinions and recipes are entirely our own. Thank you for supporting The Real Simple Good Life and our partners.
Life in a nutshell
Justin and I welcomed our little one into the world just a few short weeks before our state shutdown at the start of the pandemic. If I'm entirely honest with you, the pandemic at first was nice for us.
There was no social pressure to entertain visitors who wanted to drop by to see the babe at any given time. And we got a ton of time just the three of us to transition into this new chapter of our life. It's something very sweet I will always be grateful for.
But then, as time wore on we began to feel extremely isolated and without help as we got back to work and "regular" life, but with a tiny human to care for. Being new parents brings new and added stresses for sure. I didn't realize I had anxious tendencies until becoming a mom, but man…the responsibility of it, the emotional weight of being a little one's everything is A LOT.
Add on top of that, that we also had to figure out how to continue to run a business and get the work done with less stamina, diminished mental capacity from poor sleep and just less time. We knew we had to find something to help us cope.
Enter Rosebud CBD
I had started using CBD a while before I got pregnant to help with sleep, but it was a short season of regular use (and just the beginning of researching brands and what to look for). While going through the IVF process to get pregnant I stopped using CBD and put it on the back burner to return to after our little arrived.
Once our babe got a little bigger and I wasn't nursing around the clock, I started to look back into CBD again. I decided I was ready to start up again and wanted to make sure I was using the most potent, pure and high quality CBD. After researching, I tried several brands to compare.
I looked for the right CBD partner to share more publicly for over a year because I know that CBD will be a part of my life for the long run, not just as a new parent but also as an autoimmune disease warrior and trying to manage life with Multiple Sclerosis.
That's how I found Rosebud CBD, and why I reached out to them to see if they would be interested in being our preferred CBD partner. And I'm so glad they said yes!
I knew after corresponding with Alexis Rosenbaum, Rosebud's founder and CEO, about my interest in a partnership and then talking with her on the phone that Rosebud CBD was for me. Alexis created Rosebud out of a personal desire for the highest quality, transparent and versatile hemp CBD. And I'm so glad she did!
Her commitment to transparency resonates with me, and I appreciate the care she takes in intentionally creating a superior product. I also love her mission to inspire and empower you to take back your health. After living with an autoimmune disease for almost 15 years now, I know the importance of being your own greatest advocate and taking responsibility for your health.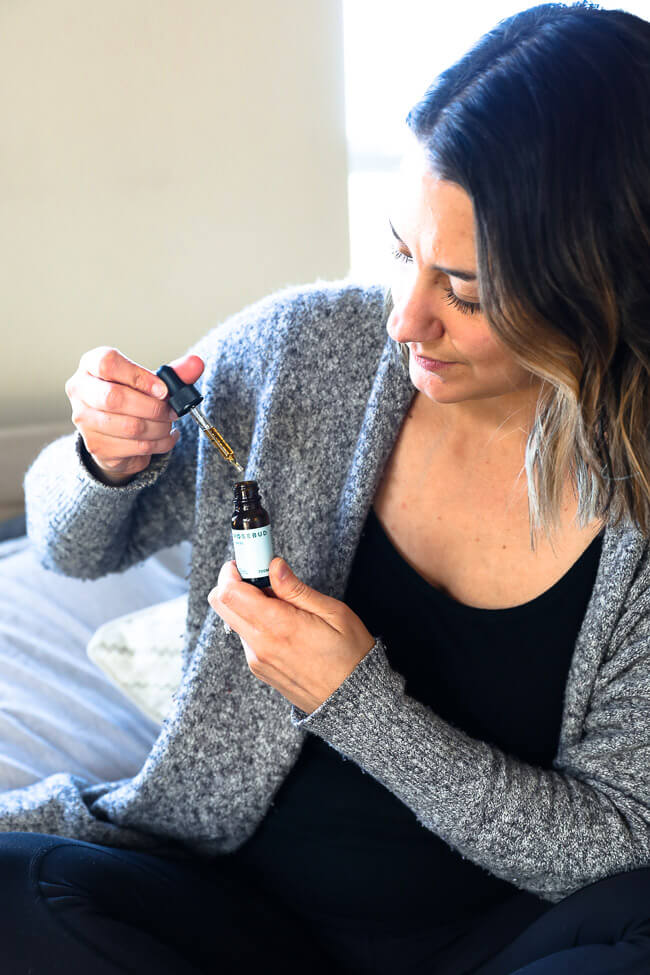 Our experience with CBD for improved sleep and anxiety
Both Justin and I started using CBD to help us sleep better because nearing a year into life as new parents, we had a little who still didn't sleep through the night (she actually still doesn't sleep through the night at the time of writing this post and we are nearing a year and a half).
So, you can imagine…we are tired. And if you're a parent or someone who suffers from poor sleep, you know that everything else is just harder when you don't feel rested.
Both Justin and I noticed quickly that adding CBD, taken sublingually under our tongues as part of our daily nighttime routines, helped us to get more restful sleep. Even if I get less hours of sleep and interrupted sleep with night feeds for our babe, I feel more rested and restored.
Life isn't perfect, and some nights are definitely better than others for our little one and therefore us, but what I do notice is that I feel it when I don't take CBD.
When I skip a night or two, I notice that I realize I'm more on edge during the day after a night of tough sleep. And that's the side effect of CBD that has probably been most helpful – it quells my anxiety and stress.
I've noticed it helps Justin cope with stress better too. We both just feel more capable of taking it all in stride. Again, it's not perfect but with regular, daily use we do notice that CBD helps immensely.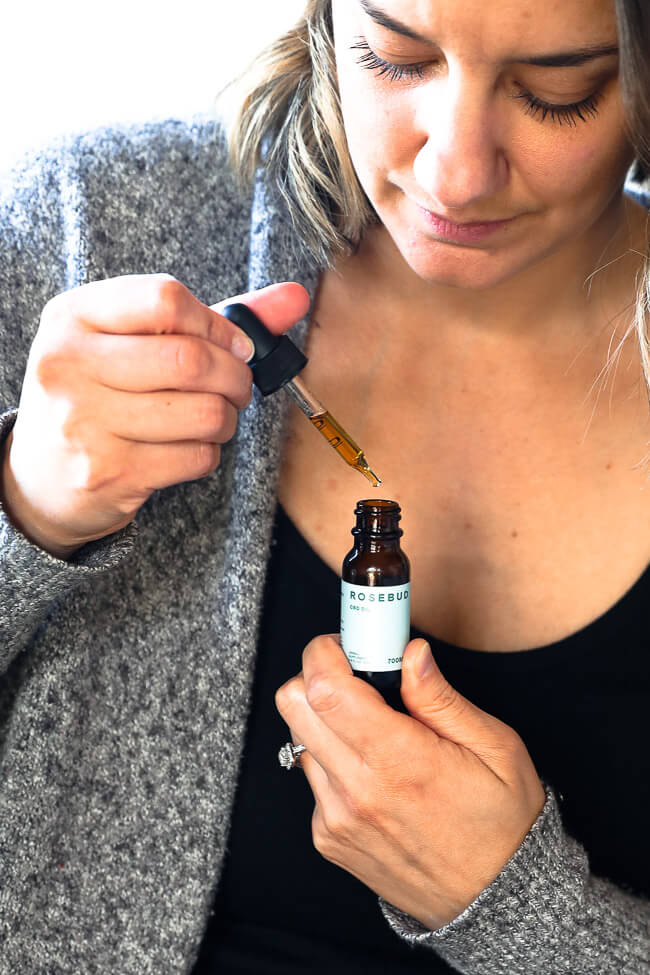 CBD dosing
Justin and I take different doses to achieve better sleep. We've both played around and tested different doses to determine what feels optimal. I primarily take CBD at night for sleep, but I also sometimes find myself taking a small dose on particularly stressful or overwhelming days, too. In those cases, I'm able to take just a few drops under my tongue to notice a calming effect without getting sleepy during the daytime.
And similarly, we have "regular" doses we take at night (~25mg for me and ~50-60mg for Justin), but if there's a day where we feel like we are having trouble unwinding and quieting our minds in the evening, we might dose up a bit. Or if we're already tired and feeling ready for sleep, we might take a smaller dose that night. I like that it's easy to tailor your dose to your day or circumstances.
Rosebud CBD is great because their dosing guide and labeled dropper makes it easy to know exactly what dose you are consuming.
What about CBD and nursing or pregnancy?
Yes, I've been taking CBD while nursing. I did wait until our little stopped nursing quite so much. If I think back and if I had to do it all over again, I'd probably start taking CBD sooner. I've seen no negative impact on our babe, and I think being a more rested, less stressed and anxious parent serves us all better.
With that said, I'm not a doctor and obviously cannot provide medical advice, so talk to your doctor or medical professional to make sure it's a good fit for you and your personal circumstances, especially when it comes to pregnancy and nursing.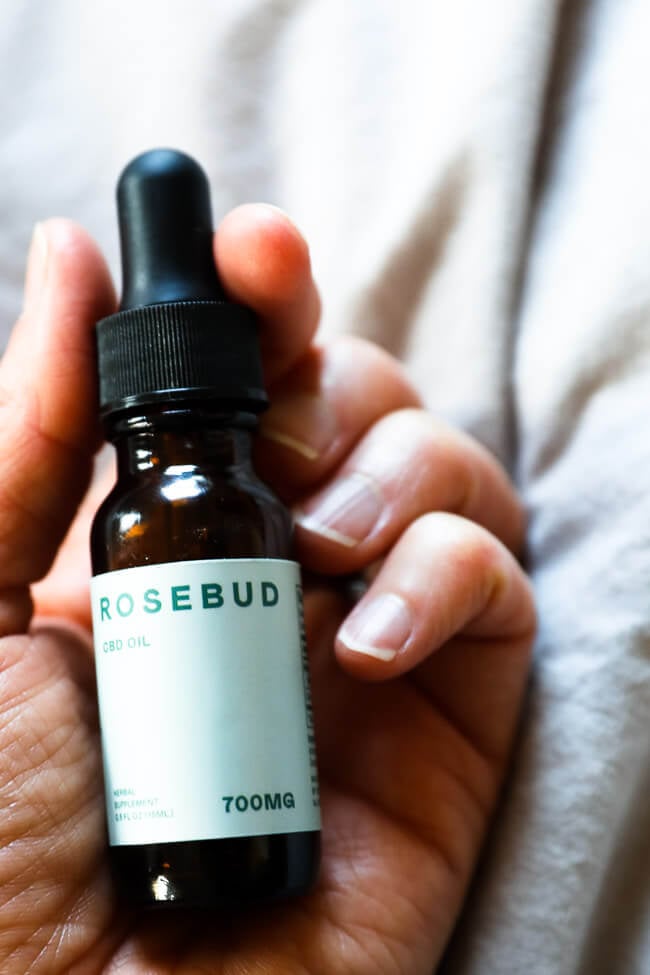 What to look for when shopping for CBD
Not all CBD is created equally. For something that is meant to promote wellness and help with reducing inflammation and pain among other things, it is counterintuitive to think that the plant itself is often grown in a way that would by nature contradict these very things.
Imagine the crop being grown with the use of pesticides for example. You'd be introducing harmful chemicals into a product you consume daily. So, here's what you should look for when you're shopping for CBD to ensure quality.
Where is your CBD hemp extract grown or sourced from? – CBD products on the market today are often sourced from outside the U.S., or from biomass facilities that do not offer high-quality hemp. 
Is the CBD full-spectrum? – Full spectrum refers to a vibrant and diverse cannabinoid profile, meaning it preserves all of the therapeutic cannabinoids found in hemp. This is what you want.
What other ingredients are used in the production or finished product? – Every CBD product should include a clear ingredient list and/or a food lab test result. Look for pesticide, herbicide and solvent free organically grown hemp.
Is the CBD third-party tested? – Always look for a third-party lab test and individual batch reports. This ensures potency and purity.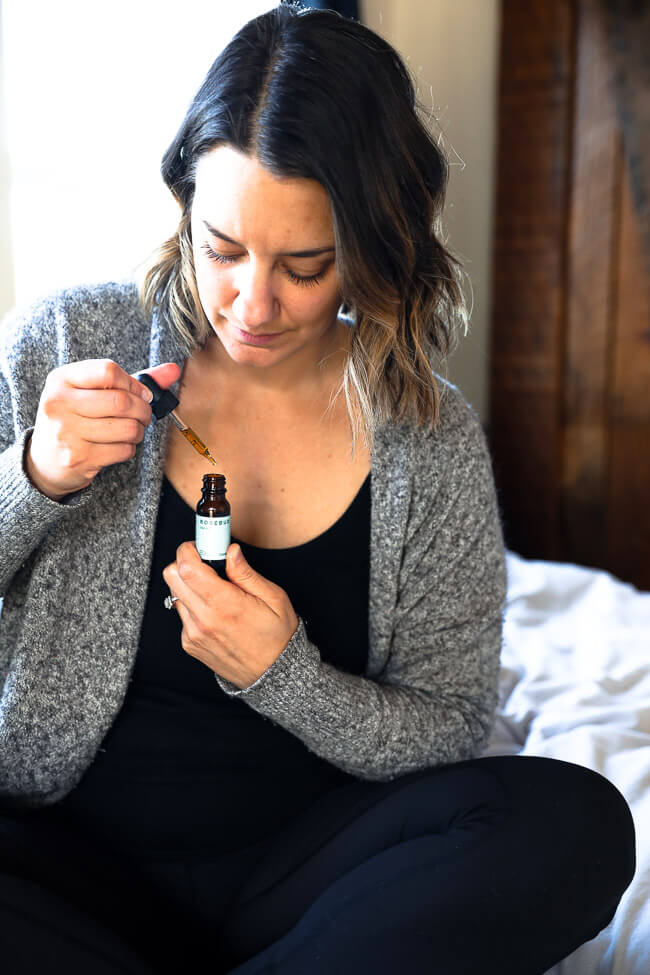 How does Rosebud CBD stack up?
Here's how Rosebud CBD stacks up to the list above.
Rosebud is grown in Oregon, which is not only our home state, but also a state that has some of the strictest regulations on CBD production.
Rosebud is full-spectrum and food grade quality. It is multi-use and safe to consume by mouth or to use topically on skin.
Rosebud contains NO additives, flavorings, sweeteners or preservatives. It is organically sun-grown.
Rosebud provides their third-party lab test reports to provide peace of mind. Testing for mold, pesticides and solvents in addition to purity and potency, it also verifies that the actual hemp extract itself is a clean, safe product.
Tell us what you think!
Leave a comment below, and let us know if our experience with CBD and tips for shopping for it are helpful! We'd love to hear about your experience with CBD in the comments below. Also, if you love this post make sure you share it – you can share about it on Facebook, Pinterest and Instagram. Tag us @realsimplegood on Instagram. Make sure to give us a follow as well if you don't already – let's stay connected!
---
---
Like this Post?
SHARE IT NOW OR PIN IT FOR LATER!
---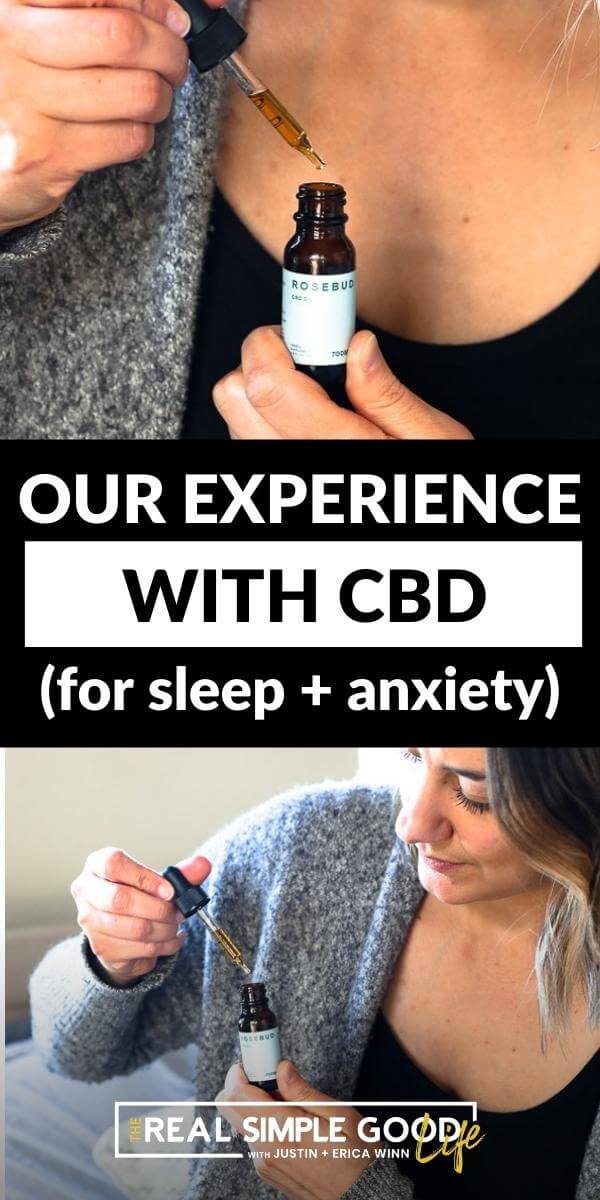 ---