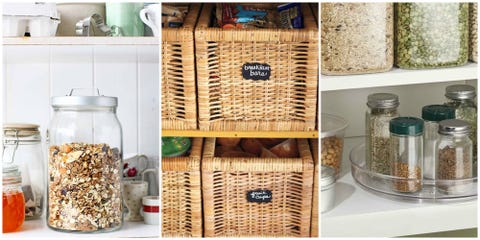 Courtesy
If you cook in your kitchen, chances are you've experienced that moment when you simply cannot find what you're looking for. You'll be reading a recipe, come across a key ingredient, think, "Well, I have that around here somewhere… I think," then go on to spend 45 minutes trying to find that item. It's that well-known, frustrating moment that makes you realize that your kitchen pantry organization may need some work. Again.
Whether you consider yourself a master chef or a cooking novice, learning how to organize your kitchen pantry will help you keep your kitchen functional. And yes, an organized pantry means that each ingredient is labeled and has a home. It means you don't hesitate when searching for a certain ingredient, or have to dig it out from under a mountain of expired or unused items. It means that you never forget where something is, or leave an item to go to waste at the bottom of a bin or cabinet. It means you actually use the items you do have.
An organized pantry also saves you money — and the stress of kicking yourself when you buy an expensive item that you later realize you already owned. And thankfully, organizing your pantry doesn't have to mean hiring experts or buying the fanciest organizational tools. Sometimes, it's as simple as investing in a label maker or reusing certain spaces in your home. If you're looking to get started sometime soon, here are 23 quick and easy ways to organize your kitchen pantry.
1 of 28
Makeover your spice rack.
"Update and declutter your spice rack with a luxurious Spice Jar Set and Labels from the Neat Methods new product line," Anne Gopman of Organized by Anne tells Woman's Day. "Swapping out all your spices to similar canisters creates a clean and edited look, which will make finding your favorite flavors a breeze."
2 of 28
Try a 3-tier shelf.
"Cans are notoriously difficult to see in your pantry or cabinet and can get lost in the back based on their height," Gopman says. "Solve the problem and maximize space by implementing The Home Edit 3-Tier Shelf. Not only will you be able to see everything, but your cans will become the center point of your pantry. As a bonus the shelf is expandable to best fit your space."
3 of 28
Add a door rack.
The easiest way to reclaim space in your kitchen pantry is to add a door rack. "Elfa's Utility White Mesh Pantry Over the Door Rack creates additional space for all of your favorite items," Gopman says. "With various basket sizes and clear box additions you can store everything from popular snacks, cleaning supplies and even create a designated baker's area."
4 of 28
Make every inch count.
Even if you're lucky enough to have large cabinets, that doesn't mean you're using them efficiently. "Gain control of every nook and cranny by adding an Extra Large Clear Lazy Susan to your deeper cabinets," Gopman says. "Now you will be able to access all of your treats with just the turn of a table, rather than knocking everything over as you look for that sweet treat."
5 of 28
Remove items from their original container.
Gabriela Mekler, co-founder of mumi Design, says one of the most common organization mistakes people make is displaying food items in their original containers.
"Whether it's cereal, nuts and seeds, cookies or dry pasta, most of the packaging is not designed to preserve the product inside once it's opened," Mekler tells Woman's Day. "This is why it is so important to use reusable zip up bags, made of food-safe PVC which is also lead free and BPA free; to store food items in a hermetic baggie made to preserve the original qualities of the food item."
6 of 28
Utilize color coding.
Using labels to organize is always a good idea, and that goes for your pantry, too.
"Being able to assign a color to each item is also a great plus, this way kids can recognize the color for cookies, cereal or oatmeal at first glance," Mekler says. "In the process we will be avoiding any accidents and unnecessary messes."
7 of 28
Give Your Home a Refresh!
Discover brilliant ways to get organized, declutter, and make over any room. These downloadable digital guides make it easier than ever to give your home a refresh. Visit our store to find dozens of ideas from Woman's Day and our sister brands.
SHOP NOW
8 of 28
Camouflage what you can with cabinetry.
If organizing every nook and cranny of the inside of your pantry isn't an option, then consider camouflaging the outside with cabinetry. This also might come as a benefit if you ever plan on selling your home, as Bonnie Heatzig of The Luxury Real Estate Authority explains.
"Buyers are looking for walk-in pantries right now. But, they don't want pantries to be eyesore," Heatzig tells Woman's Day. "The current trend is to have them camouflaged with the cabinetry, so the pantry door is covered with the same paneling as the cabinets. It's like a secret, hidden room."
In other words: If you can figure out a way to hide the pantry, you might save yourself the stress of looking at a mess and boost your home value a little bit.
9 of 28
Set clear guidelines for what actually goes in the pantry.
Shannon Krause of Tidy Nest says it's just too easy to fill a pantry with items that aren't really supposed to be in the kitchen at all. If you want to stay organized, though, avoid this at all costs.
"We tend to see pantries becoming a catch all for items that don't belong in the kitchen — batteries, cleaning supplies, hardware, bug spray, etc. Ideally, the pantry will only contain food and cooking supplies," Krause tells Woman's Day. "If you're tight on space and you need to house utility items, like batteries and hardware, it's important to keep those items in their own designated area; not next to the macaroni and cheese. Cleaning supplies and chemicals of the like should not be stored with your food. "
10 of 28
Be thoughtful about the items you reach for throughout the week.
"This may sound obvious to some but location of food is key. If a client is trying to cut back on sweets, we encourage them to store healthier snacks at eye level and store that candy supply in a harder to reach location," Krause says. "Also consider the frequency with which you visit the pantry for cereal versus something like canned pumpkin. There's no need for the latter to take up prime real estate."
11 of 28
Label everything.
If you don't know where to begin when it comes to your pantry, you can always lean back on labeling as a surefire way to get things in order.
"If you're going to do one thing in your pantry, labeling is it. Labels show the household and guests where to find things and more importantly, act as a reminder to store things in their proper homes," Krause says. "The labeled areas can also help you identify when you're running low and need to replenish. Labels don't have to get complicated or expensive – simply use masking or washi tape both on the container/basket and on the shelf."
12 of 28
Consider alternatives to decanting.
Even though many experts recommend removing items from their boxes to make things look more streamline, also known as "decanting," this may not be for you — and that's OK.
"Decanting is not for every household, so it's important to identify what your lifestyle can handle. While decanted foods have a longer shelf life and are more aesthetically pleasing and uniform, it takes time to prep and maintain so have that honest conversation with yourself before you try to replicate that Instagram pantry," Krause says. "Set yourself up for success. That Instagram-worthy panty may not be the best for your household and that's OK!" Instead of decating, considering storing the items in high-wall bins to hide the labels, but still keep them in the usual containers.
13 of 28
Have a spot to store all of your plastic bags.
If you forget your reusable grocery bags every now and then, odds are you'll end up with a pantry full of balled-up plastic bags at one point or another. The best way to store them all in one place and eventually recycle them is to have a place where you put all of them, every time.
14 of 28
Hang a white board.
If you have space for it, a white board in the pantry can serve a few different purposes. You can keep track of a meal plan for the week, write out a grocery list, or even write reminders about when certain items expire in the pantry. You could also use it to easily schedule pantry clean-out sessions or family chores.
15 of 28
Create a snack station.
If family members, friends, or roommates (or you) end up destroying the pantry in their hunt for a snack, consider creating a communal snack station. One centralized spot for snacks eliminates this problem altogether (and helps you keep better track of when you're running out of snacks).
16 of 28
Organize your storage containers.
Do you have a chaotic drawer or cabinet filled with mismatched food containers? First, go through everything. Throw out anything without a lid, and invest in solutions that allow you to find the items you need for leftovers or to-go meals ASAP. You'll be that much more likely to actually eat your leftovers when they're stored in a container with a matching lid rather than a balled-up piece of aluminum foil.
17 of 28
Use hooks to store random items.
Whatever area you're organizing, it's always a good idea to keep items off the floor. This includes reusable grocery bags, dish towels, aprons, or any other items you could otherwise hang. Using small hooks on the back of a pantry door is a great solution for this, and costs almost nothing.
18 of 28
Utilize door space.
Gayle Gruenberg of Let's Get Organized says the door is a great, frequently underutilized space for organization in a pantry. "Mount Command hooks to hold aprons, pot holders, or utensils," Gruenberg tells Woman's Day. "If you have a budget, the Container Store sells what I call 'the spine' – an Elfa standard with baskets and accessories that fits over the door."
19 of 28
Create a "grab-n-go" area
If you have kids, it may be worth creating not only a snack station, but a specific kids-friendly area. "Create a grab-n-go area for kids of all ages," Gruenberg suggests. "Use a bin or basket to store easily accessed snacks, like single-serve applesauce, granola bars, crackers, chips, pre-filled zip-close sandwich bags with your own trail mix, juice boxes."
20 of 28
Separate your vitamins and medicines.
When you're beginning your pantry organization, consider if you really want to keep your vitamins and supplements with your food and cooking supplies.
"Many clients store vitamins, supplements and medications in their pantries," Drew Harris of Drew Harris LifeSTYLE tells Woman's Day. "While I discourage this (that's what medicine cabinets are for!) if it's more convenient here for them, I suggest a multi-tiered lazy susan to keep the items contained and easy to grab."
21 of 28
Think of your pantry as a prep kitchen.
Celebrity Chef Spike Mendelsohn, who is using his experience to design luxury kitchens and pantries with Van Metre Homes, suggests people consider turning their pantry into a prep kitchen, if they can.
"Turning your pantry into a prep kitchen creates a solo space for the chef to focus on their craft. How many times have you wanted to hide stuff, or have a little hide away space, before or even while having people over? Adding a sink and countertop to your pantry allows you to have a clean kitchen while you are entertaining, keeping your entertaining area looking awesome," Mendelsohn tells Woman's Day. "Use it as a prep area to cut vegetables or use it as a utility sink, you'll find having this added space to be priceless. Even when you're cooking for yourself, you deserve to sit back and enjoy your meal without looking at the mess you made preparing it."
If you don't have the ability or budget to add a sink to your pantry, a small rolling island may allow you to create a prep area that's hidden away in your pantry, too.
22 of 28
Group similar items together.
Danielle Heinrichs of Clear Space, LLC says a great way to begin your pantry re-organization is to take everything out and group it by category, like cereals, baking supplies, canned goods, and snacks. Next up? Checking those expiration dates.
"This is a great time to remove items that are no longer usable from your groups," Heinrichs tells Woman's Day, suggesting that people use clear bins to organize the categories. "A good rule to follow when organizing — if you can't see it, you won't use it."
23 of 28
Think of the pantry space in terms of levels.
Heinrichs suggests assessing pantry space by level, noting that putting bins and baskets on lower shelves and spices at eye level on tiered shelving is always a good idea.
"The top shelf is great for small appliances and items you use the least. This space can also be used for extra paper towels," Heinrichs says. "This pantry real estate isn't as valuable. Because, back to the golden rule, if you don't see it — you won't use it."
24 of 28
Consider your lifestyle before making any changes.
Organizer and designer Caryn Greenberg of CG Design Solutions says that her process with organizing clients' pantries is to find out what makes the most sense for their lifestyle. It's important to do this with yourself, as well.
"The key thing is to interview the client and provide for their needs and what works best for them," Greenberg tells Woman's Day. "For example if they cook a lot to make sure spices are at eye level and within easy reach. Keep non-essential items in the back which will allow the everyday products to be used with ease."
Do you use oatmeal every day? Put that front and center. Do you find yourself constantly digging around for bags of flour? Decant those and put them on an easy-to-reach shelf.
25 of 28
Keep soon-to-expire items front and center.
Obviously purging the pantry of any items that have already expired is always a good idea. But when it comes to those items on the edge that you want to use, don't be afraid to put them front and center so they don't go to waste, suggests organizer Michele Goldsmith of Live Love Organize.
26 of 28
Don't fill every little inch of space.
If you want to make your pantry organized for the long term and not just in the moment, leaving some space to grow.
"Always keep extra room for growth," Goldsmith explains. "You never know if a big snow storm is coming, a holiday is coming up or maybe even a pandemic. Don't fill just to fill, that will only cause clutter and make you anxious whenever you open the cabinet."
Maybe consider designating one or two empty bins as space to grow, if you think you'll be too tempted to clutter an empty shelf.
27 of 28
Try the thrift store.
If you're on a budget, sometimes a thrift store is the best place to go to find organization solutions that will actually last. Keep an eye out for large glass jars that will last for years and years. They'll be a fraction of the price as new ones, and you can make them your own by adding labels.
28 of 28
Utilize lazy susans.
If you can't reach something easily, you won't use it as much as you want to. You might even forget you own it altogether. Neither of these are good options when you've invested time and energy (and money) into buying something at the store. Lazy susans make sure that you can easily access items at every corner of a shelf.
__________________________________________________________
Subscribe to Woman's Dayy today and get 73% off your first 12 issues. And while you're at it, sign up for our FREE newsletter for even more of the Woman's Day content you want.