Every item on this page was chosen by a Woman's Day editor. We may earn commission on some of the items you choose to buy.
35 Closet Organizer Ideas That'll Help You Keep Your Space Neat and Tidy
Say goodbye to clutter with these awesome closet organizing tips and tricks.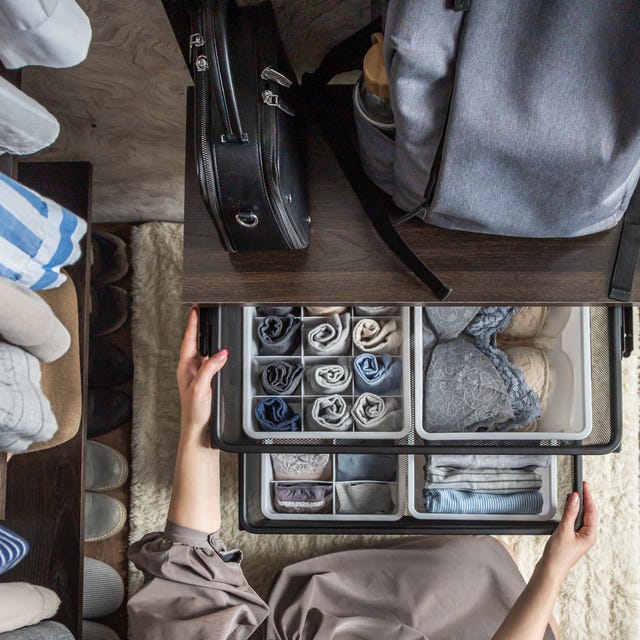 Natalia Kostikova / EyeEmGetty Images
Time to organize your closet? Why does it feel like we're always decluttering and trying to make our closets look nice? An annual occurrence (and for some, even more frequent), we go through what we have, eliminate what we don't use, then put everything back in. If you're lucky, the closet stays neat and tidy for the whole year. But likely, it lasts for up to a season until we say, "out with the old and in with the new" again.
Before you embark on your clutter-clearing journey, our experts have closet organization ideas and storage tips to relay.
"The most important tip for organizing anything is to make sure that the tools we're using work for us," says Lisa Lawmaster Hess, author of Know Thyself: The Imperfectionist's Guide to Sorting Your Stuff. "So often, we adopt things that work for other people and then become frustrated (and a little poorer) when those things don't work for us."
"The organizer has to fit the user, and we need to make it as easy to put things away as it is to just put them down," Hess adds. These closet organizer ideas are chosen with this advice in mind.
Another pro tip? Before you buy anything to help you contain, take inventory and group things. "When organizing a closet, think about sorting existing items first," Barbara Brock, founder and CEO of Beauty & The Box and former President of the New York Chapter of the National Association of Productivity & Organizing Professionals, suggests. "Weed out items you don't use. Collect like-minded products so you can see what you have."
1 of 35
Declutter before you do anything else.
Don't just jump into adding organization tools and containers. It won't do you any good if you are bursting at the seams.
So what's the best criteria to use for what to keep and what to toss? "Only keep the things that make you feel great when you wear them. Sometimes we've gotten stuck in a rut of wearing stuff we don't really love, and we don't think to incorporate some of our favorite pieces into our regular wardrobe," says Lucy Milligan Wahl, owner of boutique professional organizing company LMW Edits based in San Francisco. "If you get rid of anything that makes you feel less than amazing, you'll be left with a closet full of pieces that inspire you to express yourself through your clothes!"
Use a heavy-duty, oversized storage bag to contain what you don't need so you can easily donate to an organization you care about.
SHOP STORAGE BAGS
2 of 35
Create a system.
According to Wahl, it's a good idea to keep your clothing neat, accessible, and visible. "I like to use shelf dividers to keep folded stacks of clothing tidy, as opposed to fabric bins which hide the clothes from view," she explains. "I also believe in the power of matching hangers. When all your hangers match, they visually recede into the background and place your focus on the clothes."
If your closet doesn't have sections and compartments, consider adding a closet system that comes with easily visible areas to give you something to work with.
SHOP CLOSET SYSTEMS
3 of 35
Add some drawers.
While most closets are outfitted with rods to hang clothes, sometimes the area underneath goes underutilized. Consider adding drawers to have contained spaces for the odds and ends that don't quite fit in your dresser drawers.
Before you make a selection, take inventory of what those odds and ends are so you know the drawer sizes suitable for those items.
SHOP FREESTANDING DRAWERS
4 of 35
Stock up on storage bins.
Fabric boxes with lids will go a long way — you can stack them and utilize every inch of vertical space that you have in your closet.
A clear window allowing you to peek into each box is a definite plus. That way, you can easily remind yourself what's buried low in your stack of bins, without having to take them down and look through one by one.
SHOP STORAGE BINS
5 of 35
Prioritize undergarments.
Now, let's talk about your unmentionables.
These drawer storage boxes are perfect for containing bras, underwear, tights, camisoles, and more. Made of nylon mesh, they're soft, flexible, and lightweight. You can also wash them in a washing machine when dusty. This set comes with a 6-compartment box, a 7-compartment box, and an 11-compartment box.
SHOP UNDERGARMENT STORAGE
6 of 35
Get your shoes off the floor.
You'll need to stack or tier your shoes in order to be able to store them all in your closet. Build them up by using a shoe organizer with racks. And if there's still room within the shelves, consider adding risers for extra tiers.
SHOP SHOE STORAGE
7 of 35
Give your home a refresh!
Discover brilliant ways to get organized, declutter, and make over any room. These downloadable digital guides make it easier than ever to give your home a refresh. Visit our store to find dozens of ideas from Woman's Day and our sister brands.
SHOP NOW
8 of 35
Invest in a hanging organizer.
Keeping everything organized yet accessible with a hanging organizer is always a plus. Three shelves on top are included with this one (great for folded sweaters, sweatshirts, T-shirts, or pants), plus a handy detachable hamper, which you can use for dirty clothes, or even clean ones for extra storage.
SHOP HANGING ORGANIZERS
9 of 35
Insert clothing divider tags.
For most parents, closet dividers may be a familiar thing. They're frequently used for babies—for sorting and organizing clothes by age. Using the same strategy, these closet organizers can help you sort and section your dresses, skirts, sweaters, tops, skirts, pants, and more.
SHOP CLOSET DIVIDERS
10 of 35
Make hangers work for you.
Brock also recommends color-coding your hangers. Use different hues or hanger styles to sort and separate different clothing categories.
This multi-color set can help you get started, but don't forget to take inventory and count how many you might need per clothing category.
SHOP HANGERS
11 of 35
Don't underestimate hooks.
Though hooks won't be the solution for most items in your closet, for odds-and-ends like a random poncho or shawl that doesn't fit into a category or section, a hook can be the best (and maybe only) spot to hold these items.
A waterfall hook can stack things down behind your closet door, for starters. This one hooks over the top, but if you need to screw something in or orient it width-wise versus tall, there are other hook options out there for you.
SHOP OVER-THE-DOOR HOOKS
12 of 35
Take advantage of your top shelf.
Shelf dividers can keep your sweaters, sweatshirts and pants neatly folded up there. It'll also keep them from sliding down and falling off. These dividers can also be used for towels and linens if you're looking to organize your linen closet.
Made of MDF rubberwood, these dividers use T-bar pressure to be mounted in place.
SHOP SHELF DIVIDERS
13 of 35
Keep your bags where you can see them.
This acrylic handbag organizer will display and hold your smaller bags neatly in your closet. Each comes with four sections, so buy as many as you need to showcase your favorites. Only ideal for clutches, wallets, and small shoulder bags, you will want to consider hooks or bins for your larger handbags and backpacks.
SHOP PURSE STORAGE
14 of 35
Label everything.
There is no shame in your organization game. No, you're not being extra by labeling. You are an organized queen who knows exactly where everything is. And this label maker, which features multiple fonts and templates, will help you to do just that. Use it for items in your closet, and in other spots of the house.
SHOP LABEL MAKERS
15 of 35
Give smaller items their own space.
Besides jewelry, you'll need a spot in your closet for smaller accessories like belts, wallets, coin purses, eye glasses, and handkerchiefs. Small plastic bins like this one can be a great catch-all for those items. Buy as many as you need depending on the categories you have.
SHOP PLASTIC BASKETS
16 of 35
Put accessories on display.
When storing items as special and pretty as jewelry, a proper organizer is in order. We love this foldable, tiered earring stand. Leave it open to showcase your favorite pieces, or close it to conceal and minimize closet space.
SHOP JEWELRY ORGANIZERS
17 of 35
Light things up.
One thing that's sometimes ignored when creating a tidy closet is lighting. "Be sure to have daylight light bulbs in your closet," says Colleen Lunsford, a closet organization expert and image consultant with House of Colour. "This will help to see the true color of items of clothing, and determine if the style and color matches other pieces in your wardrobe."
These automatic, motion sensor lights are great for closets, as they are wireless and rechargeable.
SHOP CLOSET LIGHTING
18 of 35
Double the rod.
There are so many clever ways to create storage space without over-stuffing.
An adjustable closet rod that hangs from your existing rod is a genius storage solution suggested to us by Annie Brown, founder of SavvyHoney.com, where she shares tons of organizing ideas. Made of durable steel, expand this product's width as wide as 30 inches. You can also adjust its height by 35 inches.
SHOP CLOSET RODS
19 of 35
Try the seasonal hanging method.
Consider doing this if you want to keep yourself honest about what you wear and what you don't.
"Use the seasonal hanger method tool," advises Lunsford. "Turn your hangers one way, and once you wear that item turn the hanger the other way. After the season is over, notice all of the clothes you did not wear, and check to see if those garments are ready to be donated." If you haven't worn it all year, it's probably time to donate or sell the piece secondhand.
SHOP HANGERS
20 of 35
Hang your pants.
It's typical for one to fold pants and pile them into a drawer, but Wahl suggests you store jeans on hangers because it takes up less room.
"The most space saving method for hanging jeans is to clip them by the waistband like a skirt. This does require a taller space, like a long hang area where most people would store dresses and coats," she recommends. "I also like to fold jeans and file them vertically in drawers, or stack them on shelves using simple shelf dividers to keep the piles neat."
SHOP PANTS HANGERS
21 of 35
Fill up your luggage.
Maximizing space can also mean using your luggage as storage. Ideal for things you'll use when you travel—like garment bags, travel totes and resort wear—your luggage can be their safe haven.
Don't know where to store your luggage that you're actually using as storage? (That's a mouthful.) This storage rack could be a good solution. Its removable fabric basket can also be utilized as extra space.
SHOP LUGGAGE RACKS
22 of 35
Fold with care.
Haphazardly throwing clothes into your drawers and closet bins won't do you any good. Folding items properly and with precision will not only keep things looking tidy, but will save you space in the long run.
While you can fold things the Marie Kondo way, if you don't have proper technique, this could go awry. This folding tool (to fold clothes the conventional way—sorry Kondo fans) can help you with your next folding frenzy.
SHOP FOLDING TOOLS
23 of 35
Don't forget the closet door.
There are many storage solutions to use over the door of your closet, but none are as stylish as this one. Its four large pockets are made of all-natural linen cotton, and designed with a lovely pattern.
Perfect for small accessories, it's pretty enough to hang outside the closet, as well as inside.
SHOP HANGING ORGANIZERS
24 of 35
Use vacuum storage bags to your advantage.
"You don't need bulky seasonal items cluttering up your closet all year round. Instead, pick a space in the closet to store them and buy a few vacuum seal bags," says Jen Stark, founder of Happy DIY Home, a leading gardening and home improvement blog.
Seal up those seasonal items not in use with a handle vacuum sealer. "All you'll need to do is pack the clothing in, seal the bag, and hook the vacuum up to it to suck the air out and compress the bulky items down to a more manageable size," Stark adds.
SHOP VACUUM SEAL KITS
25 of 35
Hang your handbags.
These simple S hooks are the solution to storing your prized purse possessions. Made of chrome metal, its twisted design utilizes the top part of the hook to hang on a rod, while the bottom part will hold your precious bags.
SHOP HANDBAG HOOKS
26 of 35
Stack your jewelry.
Using these simple yet fancy jewelry trays will make you feel like you're running a high-class jewelry store right out of your own closet. Use these for everything from rings to necklaces to watches. Place them inside drawers and stack them on top of each other to maximize space, or lay them alone on a shelf to show off your pieces.
Buying one pack gets you a set of 5 trays in different sizes, with varying numbers of compartments.
SHOP JEWELRY STORAGE
27 of 35
Slim things down.
Unless you have a monster walk-in closet, a slim closet solution can make a huge difference in keeping your space neat and tidy. We love this rolling cart with a handle that measures only 5 inches in width. Roll it behind a nook or to the side of your closet next to hanging clothes to store anything that's able to slide in to fit.
SHOP SLIM STORAGE SOLUTIONS
28 of 35
Leverage clever hangers.
This steel hanger will help space save and also cluster your shirts so they're easier to group together and find. Versatile, you can hang them to be displayed all the way down, in a vertical fashion, or hang them across so you can see your shirts horizontally.
Get it in white or black to match your decor.
SHOP SPACE-SAVER HANGERS
29 of 35
Make extra rack space.
If you're lucky enough to have extra space in your bedroom or mudroom, a well-designed clothing rack like this one could be a great solution for extra storage. In addition to a 32-inch rod for hanging, there are four hooks and two shelves (one at the top and one at the bottom) for holding additional items.
SHOP CLOTHES RACKS
30 of 35
Create a donation station.
While you may still want to compile a giant bag of clothes to donate once a season, you can also have a donation station year-round. As you discover clothing items that no longer fit your body or your vibe, just drop them in a small bin tucked away in your closet like it's a hamper, then donate at your convenience.
SHOP DONATION BINS
Brie Gatchalian
Brie Gatchalian is a mom of two, experienced cat mom, wife and freelance writer based in North Jersey.
This content is created and maintained by a third party, and imported onto this page to help users provide their email addresses. You may be able to find more information about this and similar content at piano.io