Every item on this page was chosen by a Woman's Day editor. We may earn commission on some of the items you choose to buy.
Speed up everyone's least favorite chore.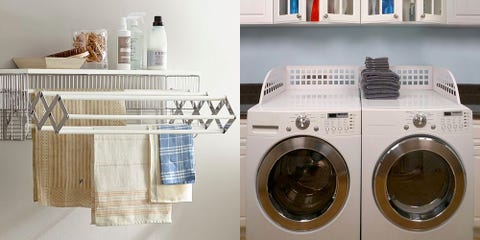 Pottery Barn/Haus Maus
The laundry room gets a bad rap. It's not relaxing like the bedroom, entertaining like the family room, or delicious like the kitchen. It's just a place for chores and dust bunnies, right? Not so fast. The laundry room can actually be a soothing, welcoming place when it's well organized, attractive, and makes smart use of space.
To that end, we rounded up 25 laundry room organization hacks guaranteed to make your space the absolute best it can be. Think smart laundry room storage ideas and solutions like magnetic bins, rolling carts, and installed racks for hanging. Get inventive with dedicated bins for lint and socks just waiting to be reunited as a pair. Maximize space with clever small-space storage solutions for maximum functionality. And don't forget to make it fun with cheeky signage and decorative accents.
Our laundry room organization ideas pull from smart blogger solutions and DIYs, plus affordable products you can buy online right now that will change the game by creating a more functional space than you ever thought possible. Whatever the specs of your own laundry room at home, these laundry room organization ideas and storage solutions will help transform the space into a room where you actually want to be. (Move over, bedroom!)
1 of 25
Separate clothes by color as you wear them.
Three Section Laundry Sorter
This three-piece hamper means you can have kids toss their whites, darks, and colors into the designated hamper at the end of each day — and skip separating the colors by yourself on laundry day.
3 of 25
Use pretty bins and baskets.
4 of 25
Buy a foldable drying rack.
This drying rack is super versatile: It can hold up to 32 pounds of wet clothes when in use, then can be tucked out of the way to free up space once everything is dry.
5 of 25
Use a slim rolling laundry cart.
Instead of letting the gap between your washer and drying to go waste, invest in a custom skinny rolling cart that'll fit between your machines and can store all of your cleaning supplies.
Get the tutorial at Infarrantly Creative.
SHOP WOOD GLUE
6 of 25
Hide your ironing board in a drawer.
Rev-A-Shelf Fold-Out Ironing Board
This genius idea not only saves you space, but also eliminates the headache of pulling the ironing board out of the closet and setting it up.
7 of 25
Or, hang your ironing board.
8 of 25
Make your door work harder.
9 of 25
Add open shelves.
Forget wasted wall space. You can store detergent or stain remover on these shelves and hang towels off of the bottom. Talk about a hardworking design.
11 of 25
Make a lint box.
Skip the trash bin and create this cute box to save up all your lint. Quick tip: You can use the leftover lint later to light an outdoor fire.
Get the tutorial at Polished Habitat.
SHOP BROCHURE HOLDERS
12 of 25
Mount a drying rack on the wall.
Wall-Mounted Laundry Drying Rack
This drying rack expands outward when you need it, then can be tucked tightly away for use later. Genius. Plus, there's a shelf on top for added storage space.
13 of 25
Or, hang a drying rack over the door.
Use your small space efficiently by hanging a drying rack over the door rather than taking up precious real estate on the floor. This one folds down flat when not in use, and it can also be wall mounted.
14 of 25
Designate a drip-dry zone.
Install a clothesline so delicates and workout clothes have a place to drip-dry. Short on space? Try a basic rod with hangers or a collapsible style that is designed to tuck away.
SHOP TENSION RODS
15 of 25
Hang a helpful chart.
This handy poster will help you easily determine the best washing machine temperatures for your loads and items.
Get the free printables at Everyday Best.
SHOP COMMAND STRIPS
16 of 25
Use a laundry guard.
To prevent losing your favorite shirt or pair of socks behind your machine, use a laundry guard to keep your dry clothes from falling and being forgotten.
17 of 25
Assemble a moving laundry station.
18 of 25
Create a miscellaneous items container.
We're talking change, buttons, basically a landing zone for all miscellaneous items that emerge from the wash and you don't know what to do with.
SHOP LARGE JARS
19 of 25
Separate your laundry into bins.
Here's another way to get your family members to help out with sorting the laundry: Each number represents a different kind of item (like white clothes or colorful garments).
SHOP STORAGE CUBES WITH LABELS
20 of 25
Install a set of hooks.
Hang your broom, duster, vacuum, and more cleaning supplies on hooks installed on your door (or utilize free wall space instead) to keep the room tidy and necessities easily accessible.
SHOP ADHESIVE HOOKS
21 of 25
Downsize your bottles.
Transfer bulky containers of laundry supplies into more manageable glass jars. You can then use a pretty cake stand for organization and storage.
SHOP CAKE STANDS
22 of 25
Use the sides of your machines for additional storage.
Make maximal use of your space and keep your essentials close at hand by mounting flat-backed storage solutions right on the side of your stacked appliances.
23 of 25
Make a plan to reunite socks.
Lost Socks Laundry Sign with Basket
Those lost socks aren't lost forever: Designate a bin to reunite pairs as soon as the match comes up. A cheeky message imparts some whimsy in the space.
24 of 25
Consider magnetic storage.
When considering your available storage options, don't forget about magnetic options! Hang them from your appliances or other metallic surfaces for an easy, tool-free solution that can be reorganized without damage at any time.
25 of 25
Make it decorative.
Sure, it's a utilitarian space. But don't forget how much time you spend in the laundry room (like it or not). To that end, give it decorative, playful touches that make the experience as pleasant and fun as it can be.
This content is created and maintained by a third party, and imported onto this page to help users provide their email addresses. You may be able to find more information about this and similar content at piano.io