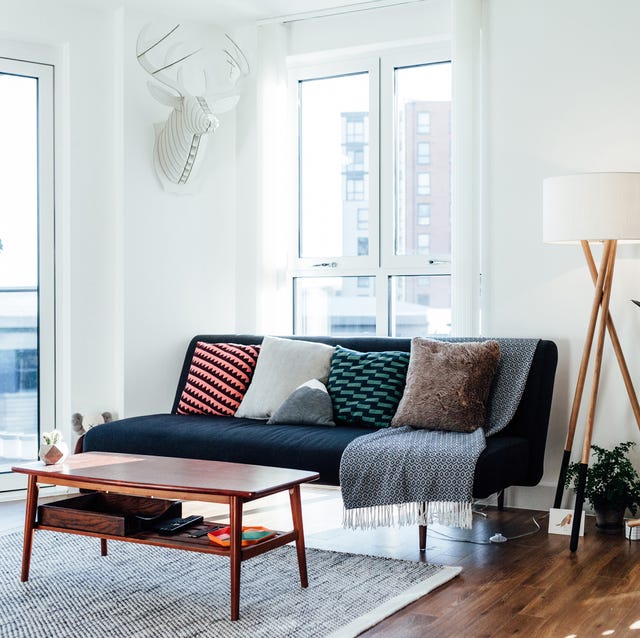 Getty Images
There's nothing more frustrating that having a bunch of furniture you want to get rid of or sell, but not knowing what to do with it. Maybe you're moving to a new place that calls for a totally different style of furniture, or you're just trying to downsize a little bit. Maybe you are just looking to earn a little cash and declutter at the same time. No matter what our goal is, selling furniture online can feel daunting. Luckily, there are a handful of apps and websites to sell furniture that make the process way easier than you might think. Whether you're trying to get someone to take a giant painting off your hands or you just have a lot of knick knacks you're not sure what to do with anymore, the below platforms make it simpler than ever to find good homes for your furniture and household goods — and make money while doing it.
1 of 9
Poshmark
If you think Poshmark is just for clothes, accessories, or makeup, think again. The popular app recently launched its homegoods section that offers everything from pre-owned bedding to wall art to storage and organization. Have some shelving you want to sell to a good home? At an average of 70 percent off market price, Poshmark may be the app for you. Plus, it's a trusted platform that many are already familiar with.
2 of 9
Facebook Marketplace
My mom recently used Facebook Marketplace to sell large pieces of furniture before downsizing to a condo, and she sold everything almost instantly. If you want to sell your pieces to local buyers as quickly as possible, Facebook Marketplace is worth considering. As an added bonus, if you're already familiar with Facebook then the process will be a breeze.
3 of 9
LetGo
People use LetGo to sell everything from furniture to cars. If you have anything that's a little out of the ordinary, this is the place to go. People shopping on LetGo are looking for anything and everything, so use this app and website if you have an extra large piece of furniture or slightly different piece of art you're trying to re-home.
4 of 9
OfferUp
If you want to make sure you only reach local buyers (and this is usually the goal when selling larger pieces of furniture), try OfferUp. The app only sources from local sellers, making the whole process more simple and stress-free. It also makes negotiating prices as easy as possible.
5 of 9
Etsy
If you've only considered Etsy for handmade gifts and quirky greeting cards, think again. The site is an excellent place to sell more unique pieces of furniture (especially handmade or vintage pieces). Using the site is a great way to make sure you're reaching collectors or retro furniture enthusiasts if you happen to have a super particular piece you're trying to sell.
6 of 9
Chairish
Say you have a piece you spent a lot of money on or know is valuable. You may not want to list that piece of furniture on just any app. In this case, Chairish is the best option for you. The site is curated (meaning that not everything makes it on the site) and has gorgeous pieces at all price points.
7 of 9
Apartment Therapy Bazaar
Apartment Therapy's online marketplace for secondhand furniture and art is known as Apartment Therapy Bazaar, and it's the perfect place to go if you're looking to sell something that's a little bit quirky. Selling items from all over the world, design enthusiasts frequent the site, meaning that listing your unique piece on Bazaar may be the right move.
8 of 9
5Miles
Another locally-focused marketplace for buying and selling, 5Miles makes sure that the people you're selling to are… well, within 5Miles. The site also confirms buyer and sellers identities to make the process as safe and stress-free as possible, which certainly never hurts.
9 of 9
Trove
Trove is an app that's essentially like a giant online consignment shop — perfect for selling any household or home goods you'd find local secondhand shop.