Every item on this page was chosen by a Woman's Day editor. We may earn commission on some of the items you choose to buy.
These editor-picked, reader-tested products make tidying up less of a chore.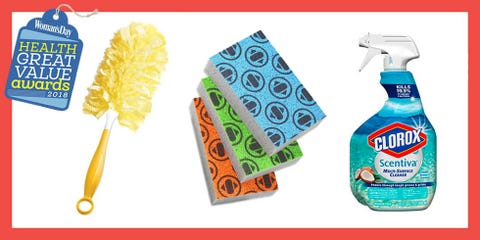 Courtesy of brands
The secret to effective cleaning lies in the quality of your products. With hundreds of options out there, you want to be sure that you're using the best of the best. With these editor-picked, reader-tested products, your home will be spotless in no time. Who knows, maybe you'll even start to like cleaning! Or, if you can't foresee that ever happening, here's a pro tip from Budget Expert Rachel Cruze: "I love to turn cleaning into a friendly competition. Set a timer and have your kids race against the clock (and each other) to see who can pick up the most toys, clothes, clutter – you name it – before a timer goes off. Whoever collects the most wins!" says Rachel. 
Watch Woman's Day on The Rachel Cruze Show to see some of our best-value cleaning tools in action!
1 of 14
Skura Style Sponge
Never wonder if your sponge is old again! The pattern on the scrubby side of Skura Style Sponge fades when it needs to be replaced. Even better: The subscription service automatically delivers four of these highly absorbent antimicrobial sponges to your home once a month or every other month — your choice!
TESTER'S TAKE: "I love that it has both soft and abrasive sides." — Lisa Carbone, Cranford, New Jersey
2 of 14
Clorox Scentiva Spray Cleaner Coconut
The tropical-scented Clorox Scentiva Multi-Surface Cleaner disinfects just like the original while leaving your house smelling like a dreamy vacation.
3 of 14
Dyson Cyclone V10 Absolute
The cordless Dyson Cyclone V10 Absolute has more powerful suction than any other cordless vacuum on the market. Plus, with almost minutes of run time, you can tackle the whole house without stopping.
4 of 14
Post-it Extreme Notes
These water-resistant, extra-durable Post-it Extreme Notes are made with an adhesive that clings to wood, brick, cement, steel, and more. Use them to label anything from pipes in the basement to leftovers in the freezer.
5 of 14
Command Metallic Hooks
Command Metallic Hooks have all the perks of the original utilitarian white styles (tool-free installation and quick, damage-free removal), but the sleek new designs and trendy finishes make them pretty enough to hang out in the open.
6 of 14
Ziploc Space Bag 6-Count Variety
You don't need huge closets to stay organized when you use Ziploc Space Bag 6-Count Variety Pack. Fill them with soft goods, like off-season clothes or infrequently used bedding, then suck out the air with your vacuum and watch the contents shrink by up to two-thirds! And the airtight seal keeps out water, pests, and odors.
7 of 14
Behr Swipes Interior Wall Wipes
Behr Swipes remove fingerprints, scuffs, smudges, andstreaks from painted walls, baseboards, and cabinets — without loss of paint or sheen. Practically a miracle!
TESTER'S TAKE: "It erased marks on walls I thought I'd have to repaint." — Antoinette, Gurnee, Illinois
8 of 14
Well-Kept Screen Cleansing Towelettes
Swipe your most-used gadgets (phone, tablet, laptop) with pre-moistened Well-Kept Screen Cleansing Towelettes to keep them grime- and germ-free at home and on the go.
9 of 14
Swiffer 360° Duster
The Swiffer 360° Duster has dust-grabbing fibers all around it that keep cobwebs and debris from falling on the floor as you clean. The disposable head is flexible, so it reaches tight corners, the backs of bookshelves, and more.
TESTER'S TAKE: "I was able to quickly and gently clean my apartment without knocking over all my frames and decor. And the price is right!" — Kari Oransky, New Albany, Indiana
10 of 14
Bar Keepers Friend Soft Cleanser
Tarnished stainless steel? Rusty pots and pans? Cloudy glass? Bar Keepers Friend Soft Cleanser shines everything the 136-year-old original powder tackles (dishes, counters, sinks, bathrooms), but the liquid formula makes cleaning vertical surfaces like kitchen faucets and shower doors easier than ever.
TESTER'S TAKE: "I was amazed at how it removed years of tarnish from my brass lamps." — Barbara Williams, Niceville, Florida
11 of 14
BISSELL Pet Stain Eraser Cordless Portable Carpet Cleaner
Your furry friends' tracks are no match for the all-in-one Bissell Pet Stain Eraser Cordless Portable Carpet Cleaner. This handheld device has a built-in scrub brush and a chamber for cleaning solution so you can remove spots from carpet, upholstery, car interiors — wherever! — without shelling out to rent a machine or hire a professional service.
12 of 14
Casabella Microfiber All Purpose Cloth
Put down the paper towels! From glass to granite, Casabella Microfiber All-Purpose Cleaning Cloths are a reusable, machine-washable alternative that won't scratch the surface or leave behind pesky streaks or fibers.
13 of 14
Duop Starter Set
The Duop Mop uses ball-and-socket technology to reach tough corners, high wall trim, and everything in between. Need to move something out of the way? The handle stays up on its own so you don't have to lean it against a wall. 
14 of 14
OxiClean MaxForce Foam Laundry Stain Remover
$3
With OxiClean MaxForce Foam Laundry Stain Remover, more of the formula tackles stubborn stains (grease included!) because you're not dealing with runny drips. Once the foam sinks in, just toss in the wash to revive your favorite fabrics.

TESTER'S TAKE: "I loved how easy it was to rub in, and that it worked like magic on some really pesky stains."— Elizabeth Utz, New Albany, Indiana
This content is created and maintained by a third party, and imported onto this page to help users provide their email addresses. You may be able to find more information about this and similar content at piano.io