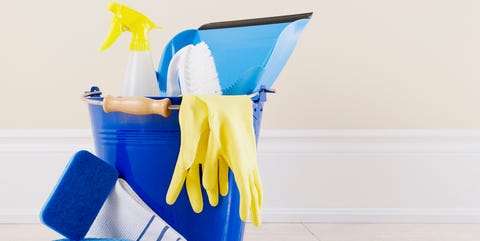 Getty Images
One of the biggest cleaning mistakes people make when cleaning their house? Using too many products. Chances are, your cleaning kit could use a major overhaul. You know what they say: Keep it simple! No pro cleaner likes to carry around too many supplies, so we asked the experts what cleaning tools everyone should own. Here are their five must-haves.
1 of 5
Pack of Microfiber Towels
$13 for 24-pack
SHOP NOW
"I've saved thousands of dollars on paper towels and window cleaner since I started using microfiber," says Lisa Romero, owner of Just Like New Cleaning in Fort Collins, Colorado. Make sure to buy good-quality cloths, usually around $1 per cloth from a janitorial supply store, and never wash with dryer sheets or fabric softener.
Pro tip: Before using a cleaning product for dusting, try just warm water and the microfiber. "It usually works," says Romero.
2 of 5
A Microfiber Mop
$40
SHOP NOW
On a tight budget, it's cheaper and less wasteful than disposable mops. This one is professional quality and can be used on anything from hardwood to concrete.
Pro tip: It's great for picking up dust in high and low corners.
3 of 5
Nylon-Bristle Broom
$30
SHOP NOW
"It doesn't splatter walls or lose its bristles," says Ronald Payne, owner of RZJ Janitorial Services in Plano, Texas.
Pro tip: Sweep your rug. It often works better than a vacuum.
4 of 5
Shammy
$8
SHOP NOW
A synthetic version of the traditional chamois cloth, this rubbery, hyper-absorbent towel is great for soaking up water and quickly buffing counters and furniture.
Pro tip: Run a dry Shammy over a couch or floor to pick up pet hair.
5 of 5
Backpack Vacuum 
$286
SHOP NOW
Professional cleaners love backpack-style vacuums because they're gentle on back muscles and make it easy to move quickly from room to room.
Pro tip: Look beyond the floor. It's easy to quickly vacuum shelf surfaces, mantels, railings and inside drawers if you use lightweight hand extensions.